If you missed buying a catalogue at the opening of one of our exhibitions, we will be happy to send you the catalogue by mail. Please, send us an e-mail. You will find our e-mail address at the bottom left corner of the website.
Petr Válek

Válek Attacks!

12. 3. – 9. 5. 2021
The phenomena of sound and movement are communicating vessels in the physical and the metaphysical worlds. Even though it is tempting to lean on the Dionysian carnival traces of the past the sound expression of which usually hovers on the border of spasmatic punk and racket, it would be unwise to call the kinetic creations of Petr Válek mere noise machines. I do not dare to judge whether their primary cause and mission is the instinct to move and the noise is a secondary product or vice versa. Perhaps that does not matter; some of Válek's self-moving robots may hold their ground as static artefacts but their integrity will show only after they start running, shaking or moving in another way. Nevertheless, what is the effect that captures the observers, both experienced and inexperienced? I maintain that is it a sado-masochistic compassion; their poetics, character and magic lies in their sophisticated imperfection, in their mechanic disability calibrated with watchmaker's precision. Their size plays a role too; if they could be as big as a Dalek from Dr. Who, Válek's objects would certainly inspire respect or even horror.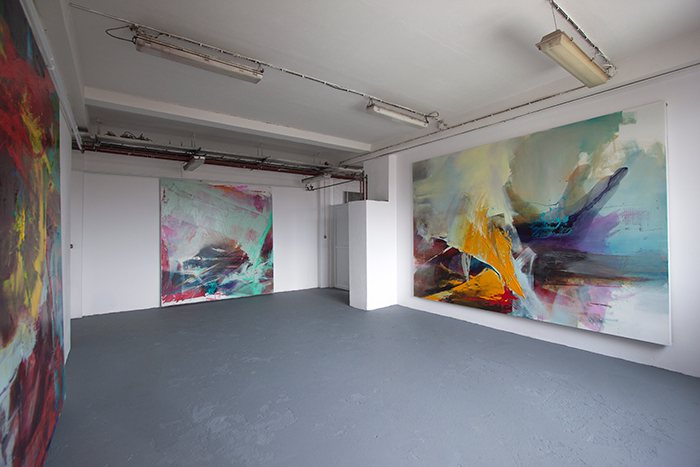 Michal Ožibko

Fire in the Midst of Waters

4. 12. – 28. 2. 2021
Abstraction is the expression of all the aspirations of modern society. It is the greatest cultural project of the West as it represents its need for freedom. But abstraction also represents the importance ascribed to freedom, which in turn leads the West to the verge of self-destruction. Artistic creation is its very essence, the legendary Atlantis, a place of immediate seeing of the beauty of the whole, in the way Otokar Březina described it. In my opinion, that is why Michal Ožibko is drawn to it so much. He is a painter by nature, a graduate from Zdeněk Beran's studio, one of the few Czech hyperrealists. Abstraction offers Michal more than breathing space; relaxation, less controlled and more open presentation of himself and the depth of his personality. In the context of his strict and compact work, his abstract work is generous, rich and selfless. It literally utilises the maximum effect of colour, brushstroke and dimensions of the canvas. Is the approach still legitimate in our tediously over-conceptualised era? I think so - I believe it is legitimate exactly to the degree, in which his total openness to us all and rock-solid loyalty to himself remain in balance. That I admire in an honest way. If too much is shown, it may mean, unfortunately, that there is too little to be seen; it is a risk the artist takes freely and seriously.